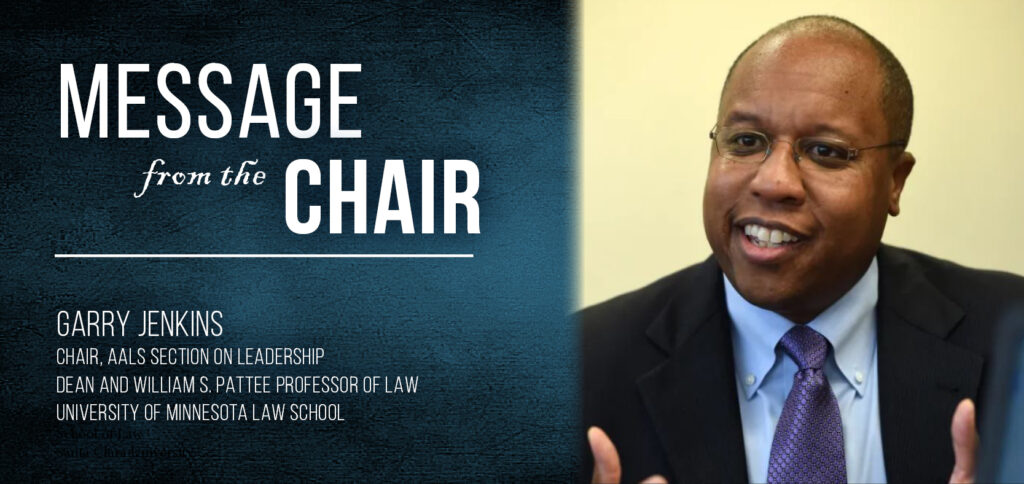 Greetings, I hope your fall semester continues to go well—with Winter Break not too far off.  I am pleased to introduce the newest edition of our Section on Leadership newsletter and to provide a short update on the Section on Leadership and our upcoming activities, most notably the AALS Annual Meeting in January 2023.
After years of dealing with the public health crisis, this will be our first in-person meeting in three years.  I hope that many of you will make an extra effort to join us in San Diego for what will surely be a stimulating meeting and a joyous reunion. 
While we are still a relatively new Section (our inaugural section program was held in New Orleans in 2019) by AALS standards, we continue to grow and attract new members interested in advancing leadership development and leadership studies in law.  This year, as a Section, we are focused on rebuilding our community and our maintaining our positive momentum.   This year we are hosting our own session on "How Teaching Leadership Can Make a Difference" (Saturday, January 7 from 8:30-10:10 am) and co-sponsoring a session on "Incorporating Access to Justice & Pro-Bono Across the Law School Curriculum" (Thursday, January 5 from 3:00-4:40 pm).
It has been a great honor to serve as a chair of the Section and work alongside a terrific Executive Committee. 
Thank you all for your continued efforts and engagement to grow and expand the leadership field.  Our work continues to be both important and needed.  I look forward to seeing you in San Diego.
All the best,
 – Garry